RECEPTION LOBBY
From the moment you arrive, Empire Residences rewards you with experience after experience. The front lobby features a check-in and concierge desk to greet guests upon arrival. Floors of white oak and marble lead to a fireside lounge with floor to ceiling windows overlooking the ski slope. Deer Valley Resort Lodging will manage the HOA, and will employ a live-in Lodgekeeper to staff front desk check-in and concierge services.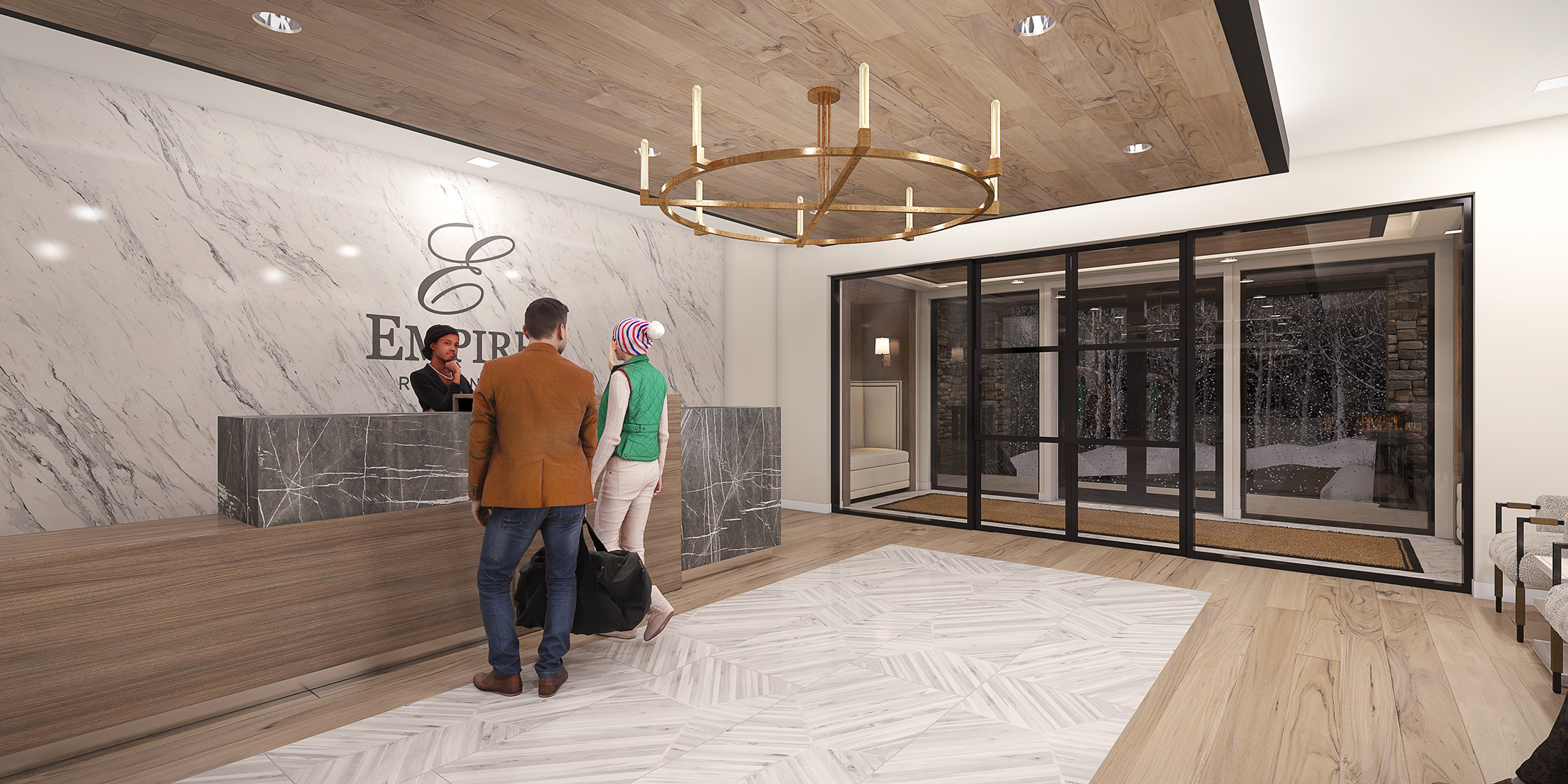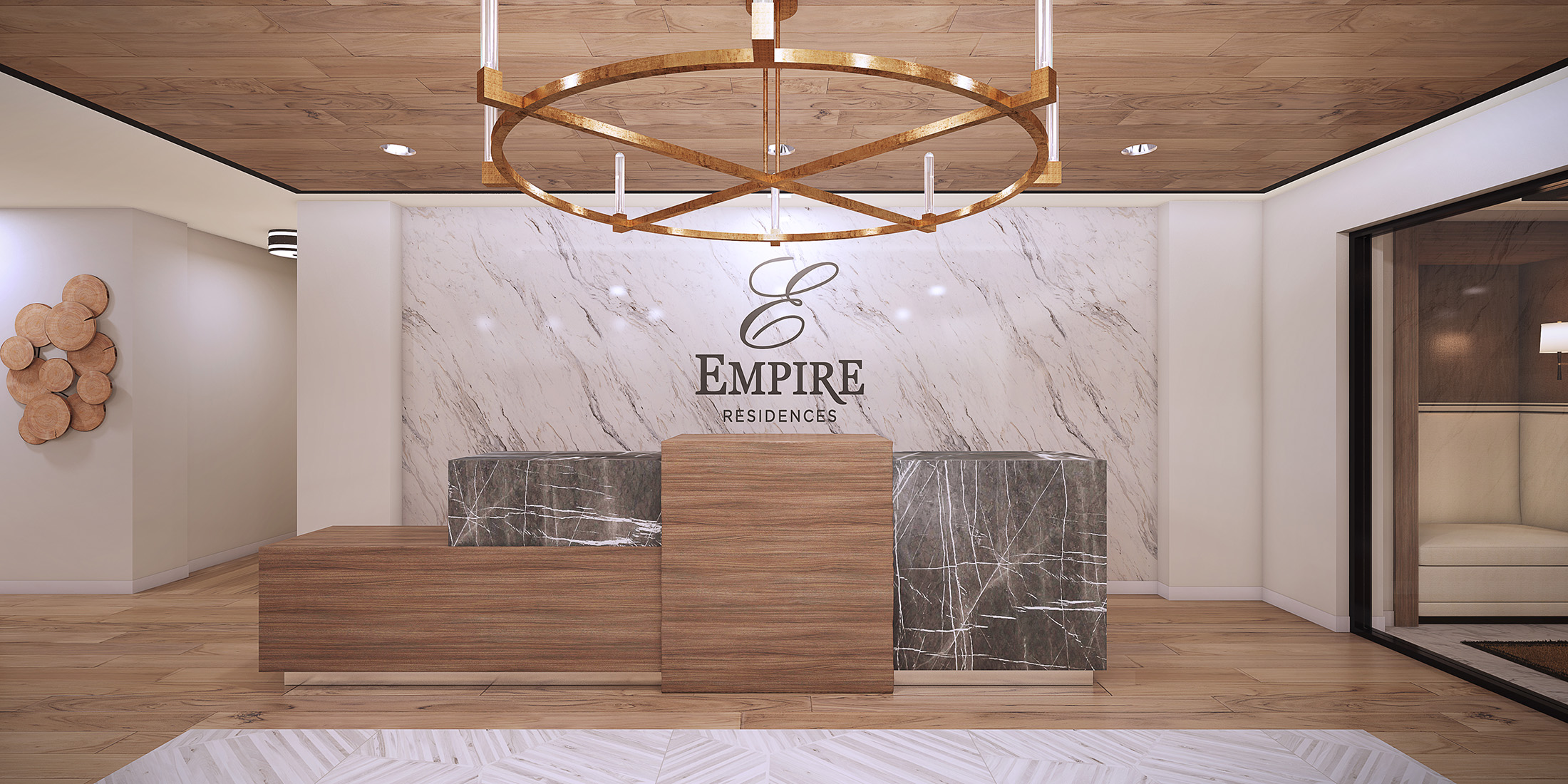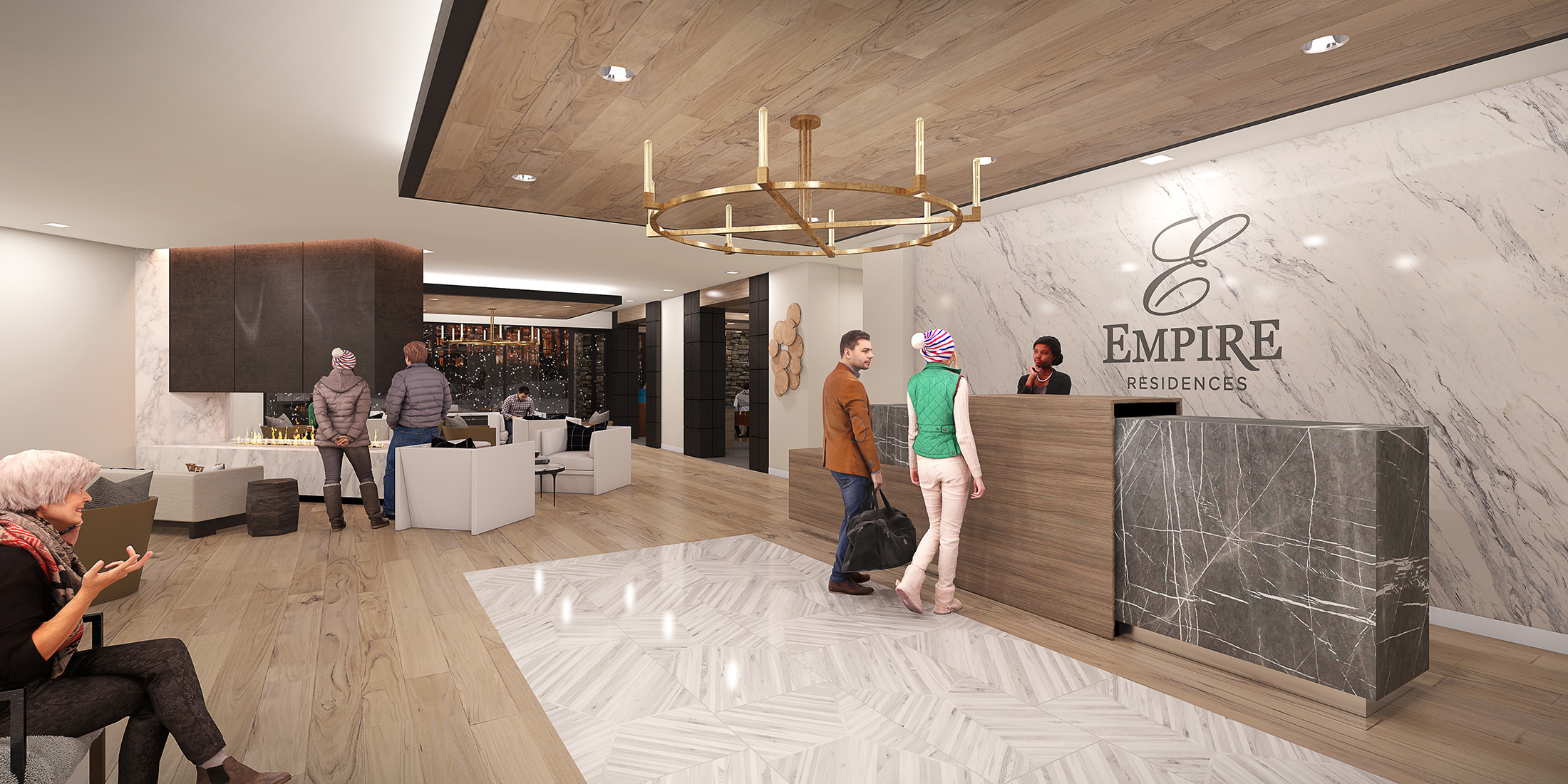 APRES-SKI PUB
The checklist of any ski vacation always includes a focus on après-ski, and there is no better place to enjoy this time than in the pub at Empire Residences. In the morning, guests begin their day meeting one another over coffee and breakfast while watching the morning news. The coffee and snack bar includes hot chocolate for the kids, available throughout the day for a quick bite and warming up.
An ideal après-ski venue, the pub features bar seating with a large, flat screen TV for watching games and conversing with new friends. The perfect place for social gatherings for all generations, the pub is open and inviting, yet warm and relaxing. Enjoy a drink in a cozy armchair, or entertain the kids with a game of shuffleboard. Floor-to-ceiling glass windows and doors overlook glowing fire pits and the ambient lights from neighboring lodges of the ski village.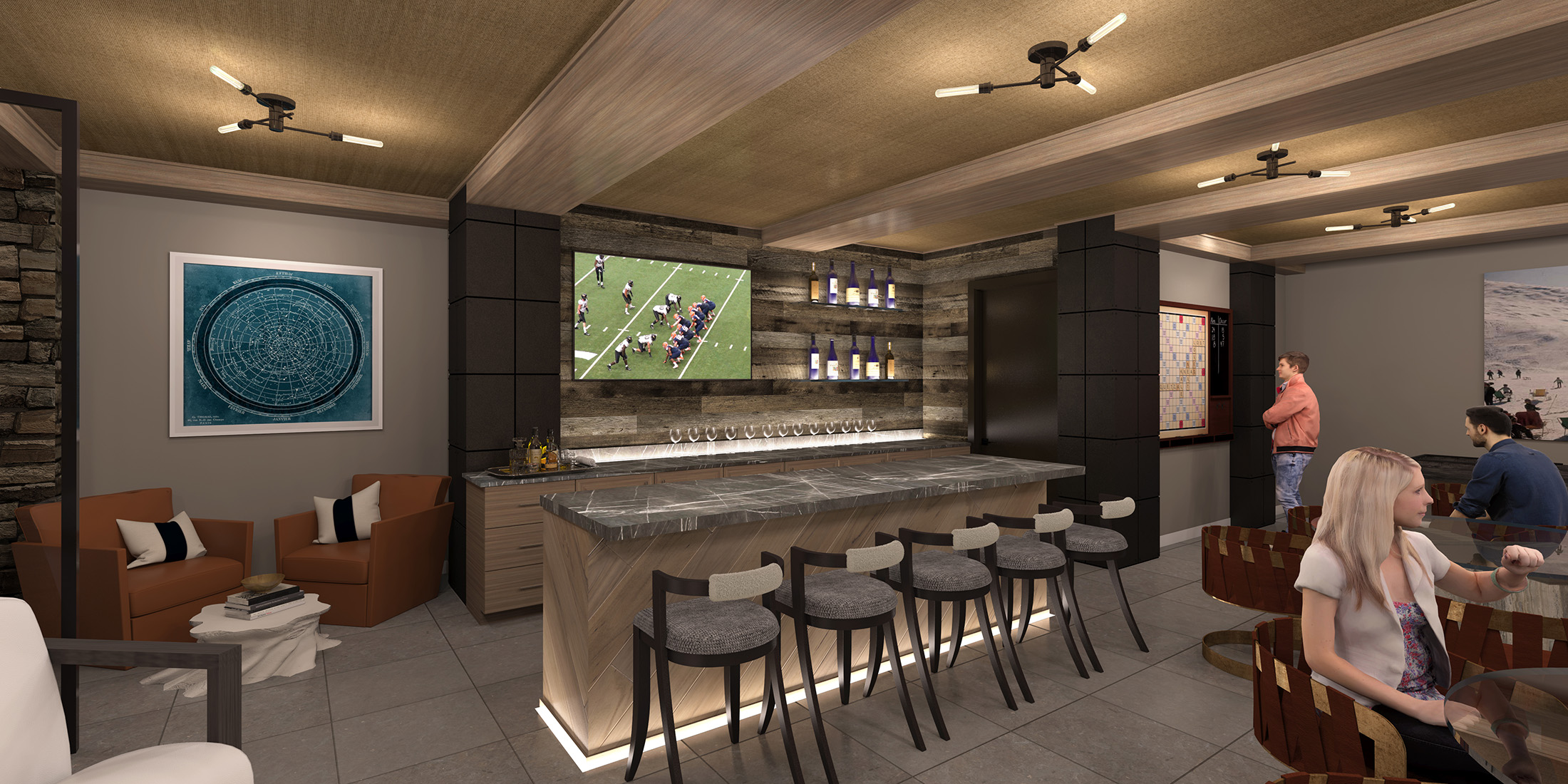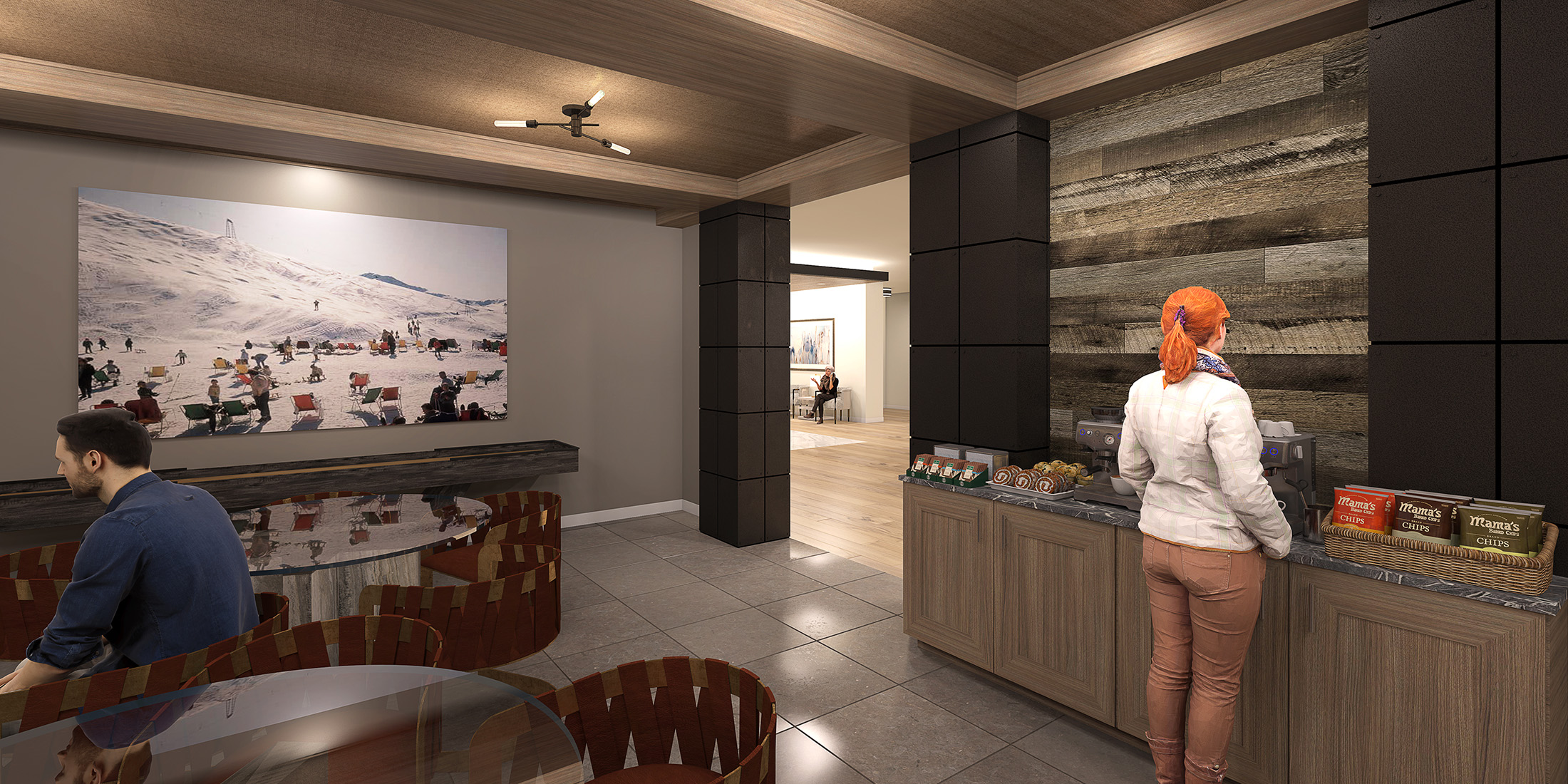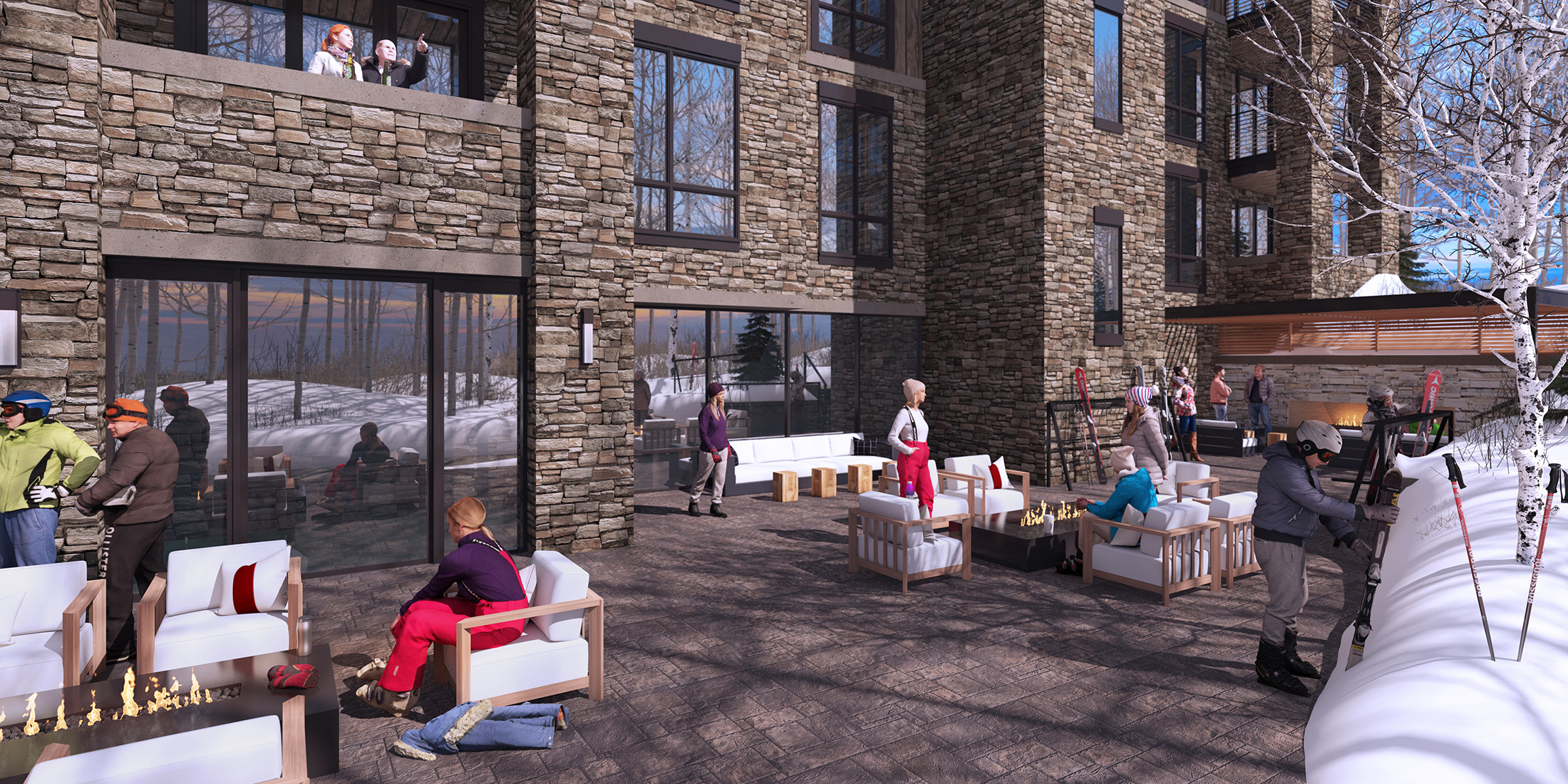 SKI BEACH PATIO
Locals and frequent visitors know that the weather in Deer Valley is unlike any other ski area. Winter days can be surprisingly warm, with vibrant blue skies and ample radiant sun. At Empire Residences, our west facing ski beach is perfectly positioned to take-up the warmth of the afternoon sun, while watching skiers glide by on the Silver Buck ski run. As the sun sets and the temperature drops, guests can circle around numerous fire pits to reminisce the day and make new friends.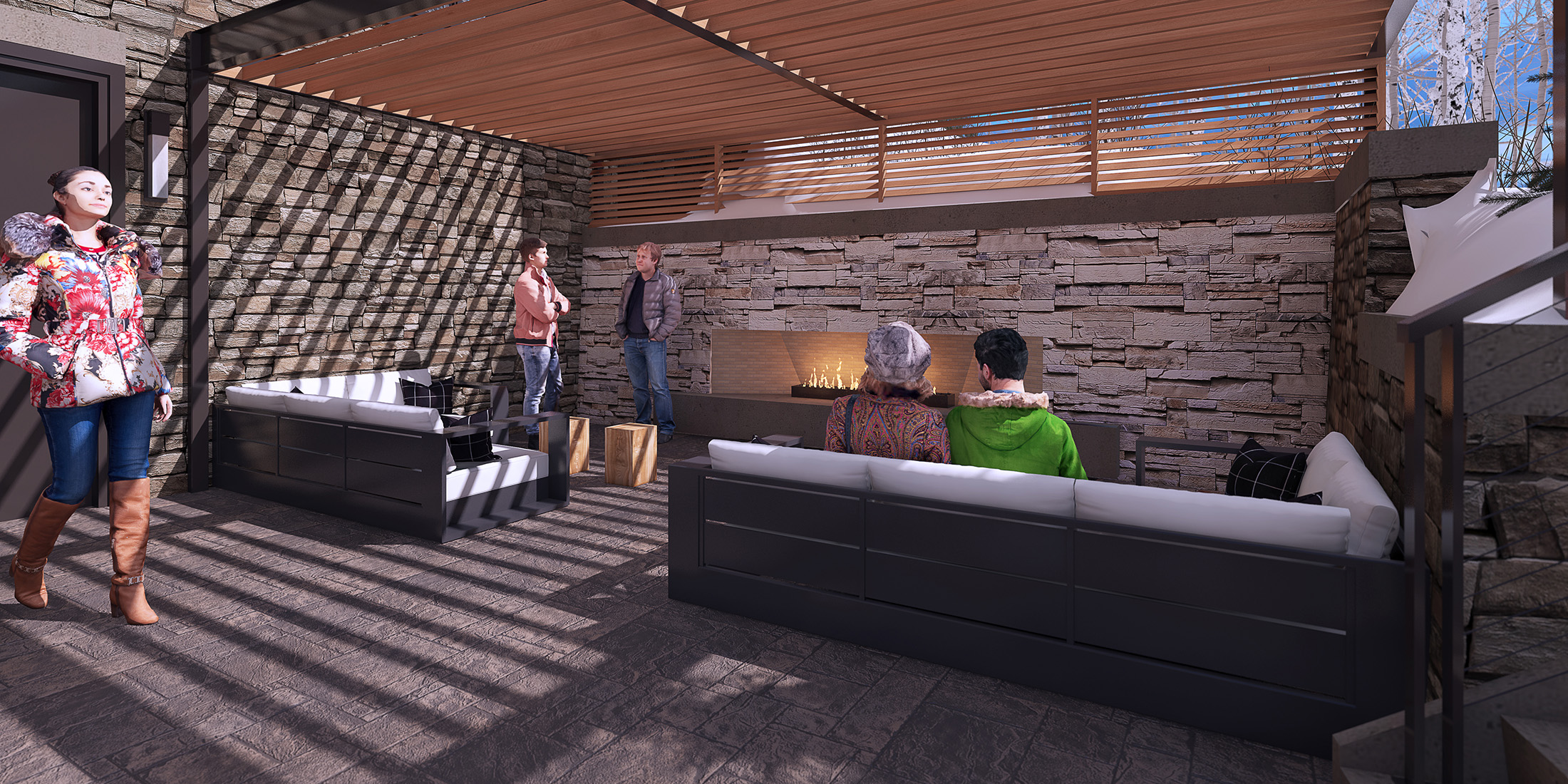 ADDITIONAL AMENITIES
Adjacent to the lobby is a fitness center offering a quick workout for non-ski days. The ski locker room features oversized lockers for abundant storage of numerous skis, poles, boots and accessories. Once geared up, simply walk out the door, step onto the ski run, and glide down to the Silver Strike Express chairlift. Its that easy! At Empire Residences, all indoor and outdoor amenity spaces are located on Level One, an easily accessible area of the building that extends from the front entry, out to the ski run and chairlift.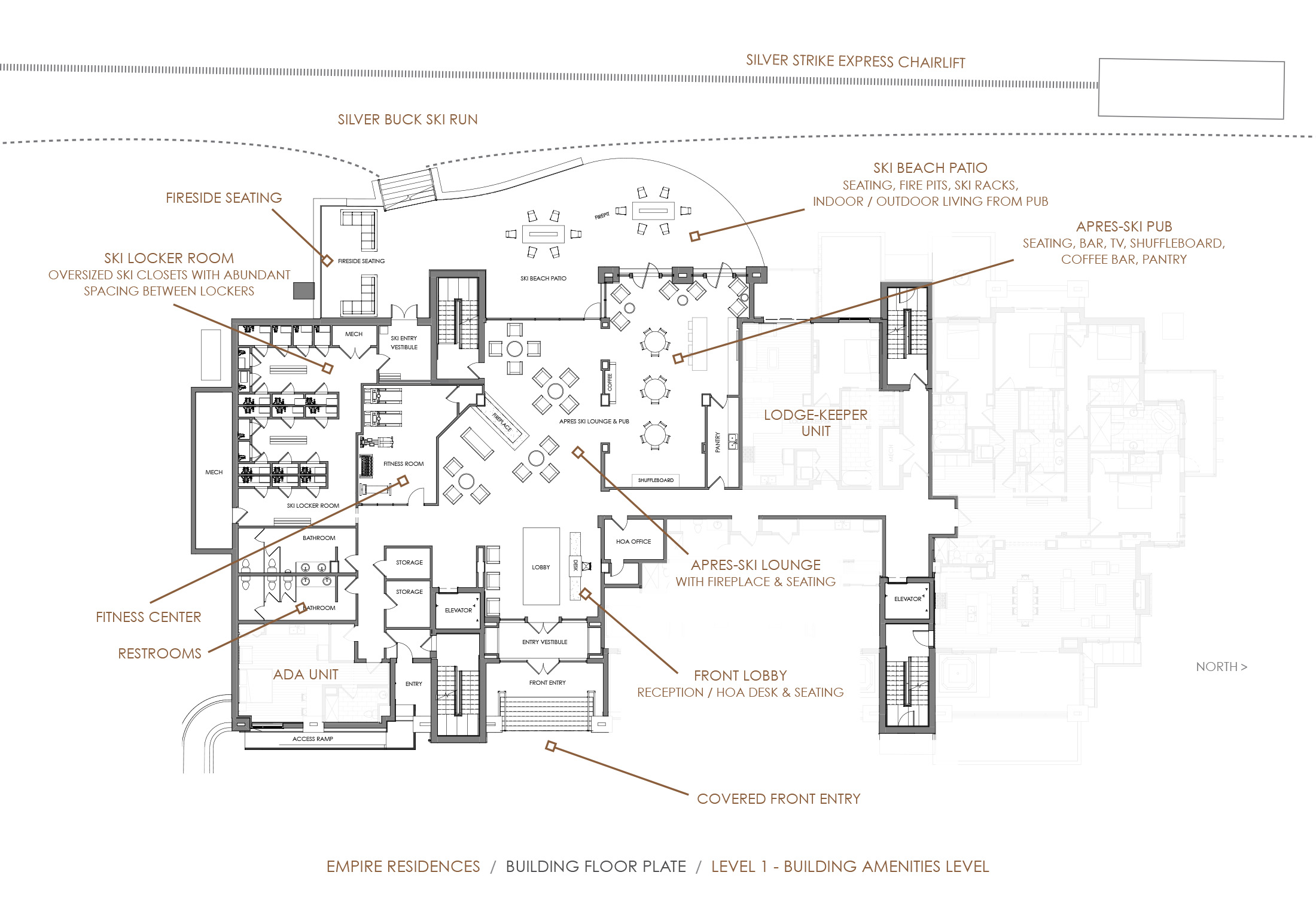 PARKING & STORAGE
Our heated, underground parking garage includes 1 reserved space for each of the 20 residences, plus 10 spaces of overflow parking. Another very unique feature is the inclusion of large storage spaces with roll-up doors, adjacent to your parking space. Plenty of storage for skis, bikes, golf clubs, etc – all within easy loading to your car. Another way we are staying ahead of the trends, this will be a rare development where we have pre-wired for the option of including car charging stations. With electric vehicles rapidly on the rise, and gas vehicles on their way out, this will be an important necessity for years to come.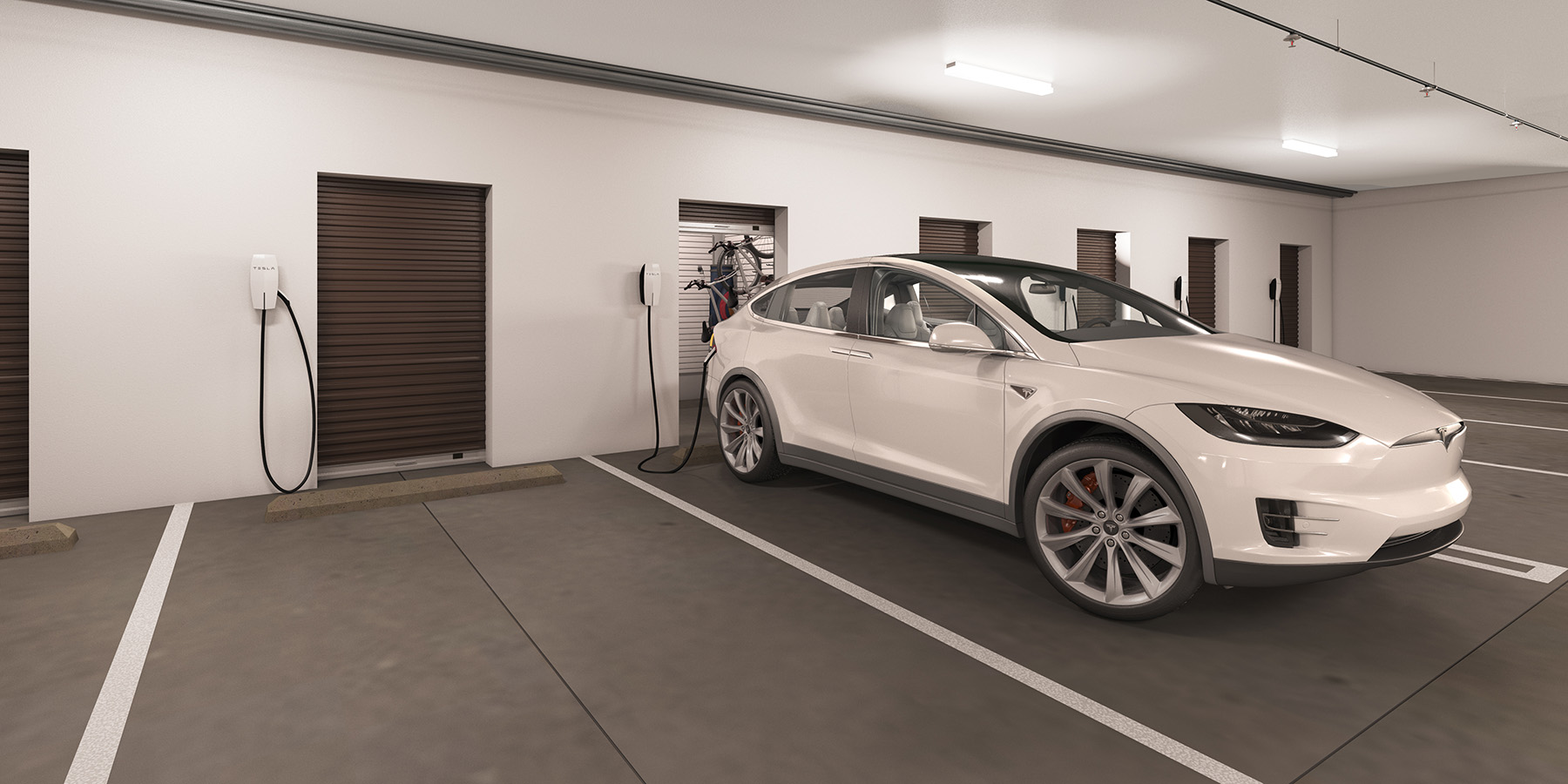 SKI-IN / SKI-OUT AT DEER VALLEY
At Empire Residences, our best and most valuable amenity is the direct ski-in / ski-out access. Simply glide over from the door of the ski room and you're immediately at the Silver Strike chairlift at Deer Valley Resort. At the end of the ski day, follow the Silver Buck ski run back home.
For Empire Residences, we have spent countless hours touring other nearby properties in Empire Pass, to analyze what has been done well, and what missed the mark for included amenities. From our own due diligence, and from the feedback of top realtors in the community, we have designed the best of the best for a luxury ski property.
Building amenities include a covered arrival leading to an inviting Aprés-ski lounge and pub — an ideal gathering place to meet with family and friends and plan for the next big powder day. Additional amenities include a fitness center, ski locker room and just steps away a "ski beach" patio with a fire pits. Each unit includes a dedicated underground parking stall with private storage spaces. And remember, there is no need for a shared hot tub as all the residences each have their own expansive outdoor deck with a private hot tub, each enjoying amazing views.
And don't forget the privilege to include a Talisker Club membership, with an extensive offering of amenities to add!